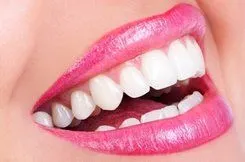 Almost everyone wants a whiter smile! This makes teeth whitening a popular service in our practice. While there are several different options out there to choose from, the most common in-office service is "chair-side" whitening. This is where we use a prescription-strength gel (more than you get at the drug store), and apply it directly to your teeth for usually 15 minutes at a time. We may do this up to 3-4 times for each patient. Most people after just one hour, see their teeth several shades whiter.
How do I know I am going to get the whitening results that I want, and what happens if I don't?
Since everyone's teeth are different, not all teeth whiten at the same speed. This could mean that your teeth may not be as white as you would like the first hour of treatment. We do offer take-home whitening treatments so that you can continue the whitening process in the convenience of your own home.
Please contact us today to see if you are a candidate for this type of whitening!